I have been surprised with some really amazing things in the mail from some really amazing sponsors since arriving in Orange County. The beaded top and shell belt are from
Tati Vintage
, who currently have these glorious babies in stock: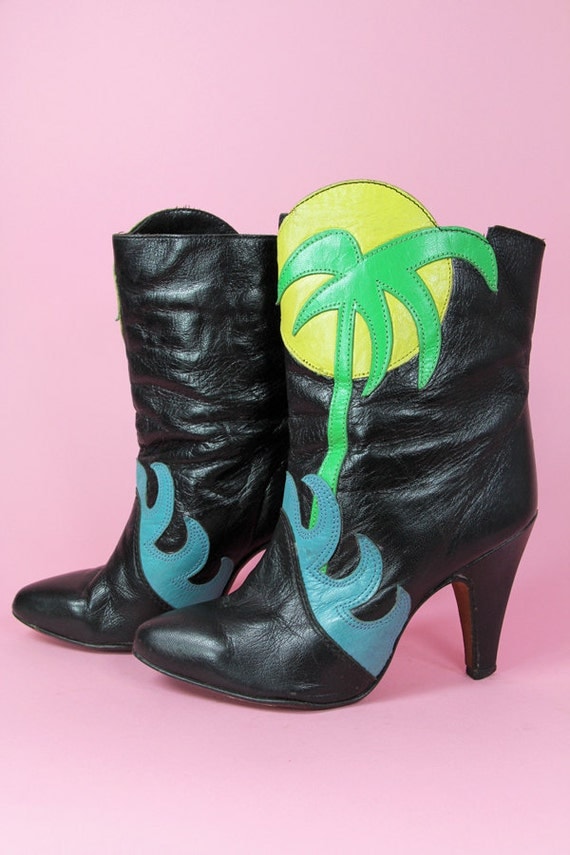 Like, what? Are those real? And why am I not a size 5 and a half? Stupid idiot feet, being all evil stepsister-ish.
The vest is handmade by
Claire Verity
in NYC. I've worn it to death, and am FINALLY debuting it on my blog. This thing has been basically attached to me since it's been hot out. Gotta cover up my booty in these hot pants somehow, right? Or not. Seeing as how about 50% of the population in the beach cities are basically naked all the time, I feel right at home in bootylicious shorts. Ignore the fact that I just used that horrid adjective. (but it's true...)
To top it off, my oldest and also newest sponsor,
Lucky Vintage
, was kind enough to send over a sweet package which included this backpack. Little did they know that I have a wallet-thing in the exact same pattern. Matchy matchy. Lucky freaking rules. You know this is true as she is in 1352 CIRCLES ON ETSY. That means 1352 people love this store. Plus me. And now you.
I would have spread all of this out in more than just one post, but I haven't been able to blog as much lately due to obvious reasons. And this outfit just made sense, okay? I am in the process of moving to the SF bay for a month before I move back down to Los Angeles and I can't really keep track of everything that's going on, except that it is good. Good good good.

Follow my blog with Bloglovin